What is Osteopathy?
Osteopathy involves stretching, moving, and massaging a person's muscles and joints with the aim to identify, treat, and prevent health issues.
The basis of osteopathy is the idea that an individual's wellbeing relies on their bones, muscles, ligaments, and connective tissue functioning effectively together.
Osteopaths use physical manipulation, stretching and massage in order to help the body heal, reduce pain, relieve muscle tension, enhance the blood supply to tissues and increase the mobility of joints.
What are the benefits?
Osteopathy is known for its gentle approach, making it suitable for older people. Using a variety of touching, stretching, physical manipulation and massage but rarely joint adjustment, osteopathy relieves tension, induces the body's natural healing mechanism, increases joint mobility, and increases the blood supply to veins and tissues.
Osteopathy will gently stretch the muscles and connective tissues surrounding the vertebrae and other joints, relieving pressure and strain and enhancing posture overall. Your Osteopathy will aim to enhance the joint's movement and increase lymphatic drainage in the area to relieve pain. Additionally, you may receive strengthening exercises to be done at home to improve your mobility.
Meet Hoxton Health's Osteopath, Raphaelle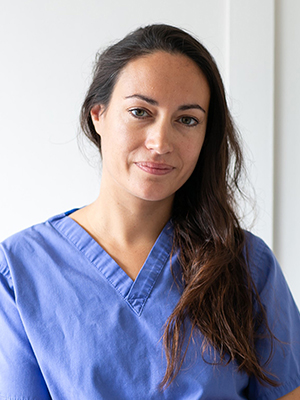 Raphaelle qualified with a Master's degree in osteopathy from the University College of Osteopathy with distinction. She is a registered GOsC osteopath and has the experience of treating adults of all ages and from all backgrounds.
Passionate by the human body and its anatomy, Raphaelle develops a tailored treatment using varieties of hands-on techniques as well as advice on lifestyle activities and exercises based on patients need.
In her spare time Raphaelle enjoys Pilates, swimming, and spending time with her family.
Raphaelle speaks both French and English.
What patients say about Osteopathy with Raphaelle
Patient 1
As far as I'm concerned Raphaelle is an angel. She has explained to me what the problem is and put me at ease – it was such a good, clear explanation. Then Raphaelle works hard at stretching my back and everything else. I couldn't ask for better. When I come out my back feels more relaxed and my body doesn't feel so tense. Raphaelle also gives me advice on what to do and not do in terms of physical activity. I'm not going to be completely pain free – but the osteopathy treatments are really helping.
Patient 2
I have double scoliosis and osteo-arthritis and referred pain in my side and back. Raphaelle has been brilliant – she just got the overview of the issue straight away. The manipulation is amazing. She seems to know where the tensions lie and what I need. I come out of my treatments, and I am flying – it's fantastic, I love it!