Earlier this week we caught up with Valerie, a regular patient that has been coming to Hoxton Health since the pre-pandemic times.
---
What brought you to Hoxton Health?
During COVID my health deteriorated, I was at home, I broke my foot, and suffered a close bereavement – and I was walking around with a cloud over me. I used to come to Hoxton Health before, and then I was in a situation where I needed to make a change.
Now I feel like me again; I just needed to get my health sorted. Hoxton Health provides so many different treatments, that you are bound to find one that works for you! So all these different treatments, in line with pain management programmes, and a desire to improve my health in 2023 – that's what brought me to Hoxton Health!
How have the treatments helped you?
For one, coming here gets me out of the house. If I come regularly, it's something that gets me up and out. Each treatment has done something different. I was bedbound, then in a wheelchair – and when I came I was using a stick, now I walk with a limp, but no stick. The therapies have shifted my energy, they've allowed me to feel like me again. There were times when I didn't recognise myself, and now I do. I feel brighter and more able.
The therapies have shifted my energy, they've allowed me to feel like me again.

Patient Valerie
Reflexology with Paula – I ended up in tears and I don't know why, she has such a lovely way with her – it has really helped.
Acupuncture with Fatima – I tested it and I know it really works for me. I suffer with hyperhydrosis, and when I first came to Hoxton Health it was out of control. I said to Fatima forget all the pain, that is what I need to sort out – and it has happened. These are the 2 treatments I really like, but I have tried most of them, and not been disappointed with any one of them
Would you recommend Hoxton Health to your friends and family?
ABSOLUTELY!! And I do. I keep trying to get my mum's carer to come. Absolutely recommended, I wish you did home visits, so someone could come and give my mum a massage as she is housebound. Also I hope that in the future Hoxton Health will join up with the pain management groups in the borough, so costs could be subsidised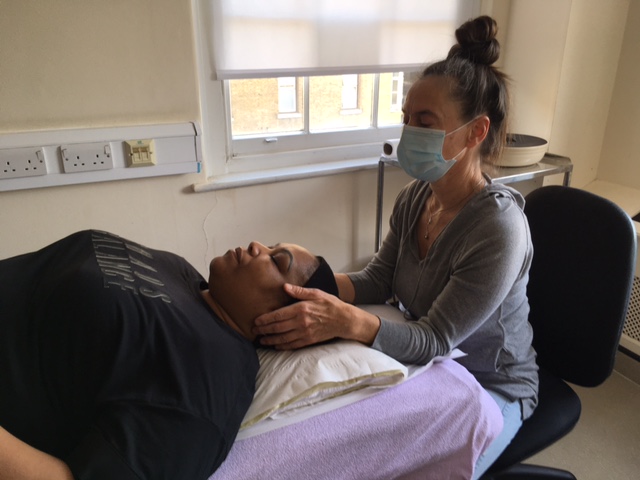 ---
Here at Hoxton Health we have a range of low-cost complementary and alternative therapies, as well as exercise groups running from Monday to Friday, which you can view on our site here.